The Perfect Guide for New Websites and Website Re-design Projects
Planning a website can be a tough task so I thought I'd create a planning guide that will help relieve some of the stress. After all who couldn't use less stress? Life is so much easier when there's a template or map to give you direction. This website planning guide is a great fit for website projects of all sizes.
What is the goal or objective of your website?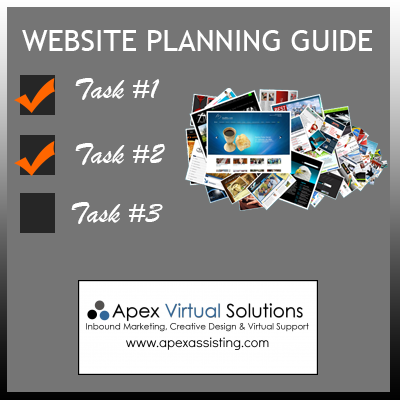 Websites are created for different reasons so it's important for you to decide why you need a website. Here are some questions that will help you identify the goals of your website project.
Will you be using this website as a primary source for generating income?
Is it to increase brand awareness?
Will you sell products on your website?
Will you be promoting a cause?
Do you want to offer resources to current customers or online visitors?
Will customers need to register and set up an account on your website?
Understanding why you need a website will help when it's time to get the layout and content created.
Who are you creating your website for?
Knowing who you want to target has to be identified before you start the website design process. Everything your website represents will be directly linked to who you want to attract to your website.
Why should prospects do business with you?
Is there anything that makes your business stand out from its competitors? Your website needs to showcase your core strengths. Here are examples to help you get started:
Are you more hands-on than your competitors?
Do you have better pricing?
Are you offering better quality?
Do you provide extra steps that your competitors omit?
Do you have a proven track record of success?
How will your website be structured?
There are so many beautiful and creative websites online that are simply unable to attract quality leads. Having a website that is only aesthetically appealing may not get you to your end goal. It's important to structure your website in a way that makes sense for the people you want to attract. It's generally not a good idea to make things overly complicated. You want people to land on your page and easily be able to find what they are looking for, if not they'll most likely leave.
Research
Look at some of the websites of your competitors and take notes of what you like and don't like. When you're browsing through their website be sure to look at things like their content, features, overall design, functions and navigation. It's not a good idea to make your website a replica of your competitor's but the notes you take will help you get a better handle on the details you'd like to include on your own website.
Create a content strategy
Your content strategy is what information you will be displaying on your website and how you plan on presenting it to online visitors. The content is anything that gives website visitors information and can include:
Blog posts
Documents
Videos
Pictures (gallery, slideshows, etc.)
Embedded social media feeds (Twitter, Facebook, etc.)
Audio
Whitepapers
E-books
Your content strategy is the method in which you plan to present or deliver information to your audience over a period of time. For example, you may want to publish a blog post 3 times a week and a video once a week. Your content strategy will play a huge role in the success of your website.
Now of course these tips are just a few on the long list of developing an awesome website. If you're stuck in the process and not sure where to go, contact us today for a free evaluation or consultation. Is there something you'd like to add? Join in on the conversation by entering your comments in the section below.
All the best,