It's no secret that many small business owners and bloggers are using WordPress to build their websites. In fact, we use WordPress for our own Apex Virtual Solutions site. WordPress is a great option because it is extremely user-friendly and the customizing options are limitless, so it gets a two thumbs up from me.
A few of our clients come to us with sites that they have already created and want us to simply review it and give our feedback. One of the most common things that we see missing in most sites are key plugins. I will share will you 5 plugins that I think every website should contain.
Plugin #1 – Sexy Bookmarks (now called Shareoholic)
Is your website too sexy to keep to yourself? Well if you answered no, why not? Sexy Bookmarks is an incredible plugin that lets your readers share your great content with their friends and followers. This is a great way to increase your fan base. Click here to get Sexy Bookmarks for your WordPress site.

Plugin #2 – W3 Total Cache
Don't you just hate it when you go to a website that takes forever and ever and ever to load! This plugin is said to increase your overall site performance by at least 10x! Better performance equals more visitors and a higher conversion rate. Time is money baby so don't turn people away because your site is still in the dial up ages. Click here to download the W3 Total Cache plugin.

Plugin #3 – Platinum SEO Pack
SEO or search engine optimization is like at the top of the list when it comes to having a stellar site. It doesn't matter how beautiful, cool or grand your site is, if no can find you. The big question is can your target audience get to you easier than your competitor. There is a science to good SEO and the Platinum SEO Pack makes it darn near effortless.  Click here to get this plugin.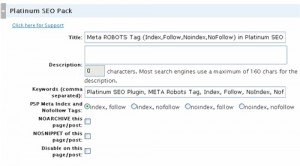 Plugin #4 – Gravity Forms
Gravity Forms makes it easy for you to build and publish forms on your WordPress site. Forms are a great way to  gather information from your visitors or take online order requests. Click here to get your Gravity Forms plugin.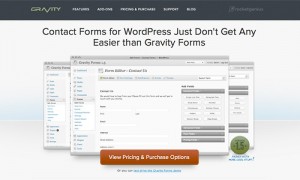 Plugin # 5 – WP-DB-Backup
Backing up your WordPress database is a no brainer. You don't want to risk losing all of your core data and having to start from scratch. Click here to download the plugin.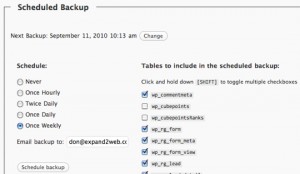 There are tons of other plugins that will help you create your ideal website. The ones listed in this article are just some of the ones that I thought were at the top of the list. You can find tons of other great WordPress plugins by clicking here. What other plugins do you use on your site? I'd love for you to let us know by commenting below.