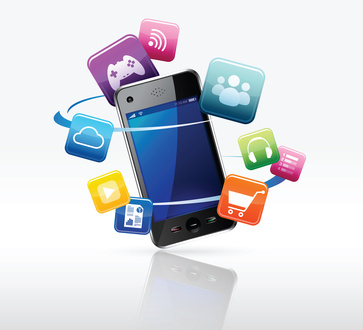 Apps apps apps; you gotta love a great app?  Everyone has a smartphone or a tablet, right? And those tablets and smartphones have dozens of apps on them.  No matter what you're into, there's an app to suite your fancy.  Here are 7 of my favorite apps for business owners on the go.
1. Evernote 
If your desk is filled with post it notes and paper, it may be time for you to consider a note taking app.  With Evernote you can capture anything and access it from anywhere.  Some of the features include using pictures as notes, website screen shots and even voice messages.
2. Google Drive
Google Drive allows you to see 30 different types of files.  You can even view files like Photoshop even if you don't have Photoshop on your computer.  Embedded within Google Drive is Google Docs.  This gives multiple people the ability to view the same files and make changes at the same time.
3. Square
The Square is a small device that can be attached to your smartphone or tablet and it allows you to make transactions from anywhere.  With the Square you are able to track all sales with real-time sales data. No merchant account is needed and the payments go directly to your bank account.
4. Expensify 
Expensify simplifies your expense reports.  You can import all your bank or credit card transactions, send reports to anyone and even sync with Quickbooks.  Expensify also allows you to manage your spending by creating charts for those that like visuals.
5. Dropbox
If you have tons of photos, documents and other stuff spread out on multiple devices, Dropbox will help you get organized.  This app allows companies to work together as well without having to email information back and forth.  Companies can use Dropbox to collaborate with co-workers and clients from virtually anywhere.
6. SignMyPad
If you work in a profession that typically requires your customers and clients to sign numerous documents, SignMyPad is here to save the day.  With SignMyPad documents that are normally printed or faxed for signatures can be done on mobile devices.  The wonderful thing about SignMyPad is that it doesn't use a digital signature, it captures real signatures and even GPS's the location where it was signed.
7. TripIt 

TripIt is not your typical travel site.  With TripIt, you are able to put all your trip details into one Master itinerary.  You can even include maps, book restaurants, theater tickets and other activities.  TripIt is a one stop shop for all your travel needs.
For more great tips, subscribe to our newsletter to today or use the form to the right of this page to get email alerts for new blog posts.