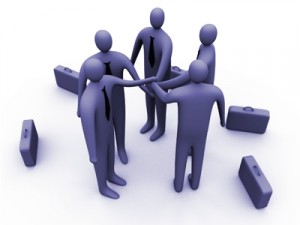 There seems to be a huge debate around virtual support. To outsource or not to outsource seems to be the big question. Is it okay? Will it hurt my bottom line? Is it more trouble than it's worth? Virtual support if done right, in my opinion can give any small business a competitive edge.
It may sound like I'm biased because I own a VA company, but in all actuality I honestly use Virtual Assistants to help me run my other online businesses. Why not? No office space required, very little training needed and no freakin employee taxes. If you keep reading you will see that I have listed 7 benefits of hiring a Virtual Assistant and I have also addressed some of the most common objections.
The obvious perk to using a Virtual Assistant company is that there is no real need for a brick and mortar location. Virtual Assistants work from their own office; utilizing their own software and equipment.
Employers are free of all employee related taxes. No medical expenses, no vacation pay, no pension, no HASSLE.
ALL IN ONE. Ever heard of all in one printing stations? You know the ones that come with the ability to fax, scan and copy. The beauty of hiring a Multi-VA company, like Apex or Global Task for example is that in many cases you gain access to a wealth of talent that is all billed under one invoice. You have your administrative, creative design and marketing team all at the click of a button.
You are only billed for the time spent to complete your project. I remember in my corporate days how most of the employees spent the bulk of their day socializing, texting and chatting about everything but business.
Virtual Assistants can help you stay focused by handling your backend office support. We take care of those emails, phone calls and appointments for you. Online filing, internet research, we've got it covered.
Consistency for the inconsistent. The work flow of a small business owner is never guaranteed. You may have two good months followed by three bad months. Using a Virtual Assistant company offers you support only when you need it. No more having to train someone new or fire your help when work is slow. You can put your services on hold and when you need it again, your VA can pick right back up where you left off.
Less stress, more fun. Business owners are notorious for working outrageous hours, especially those wanting to be number 1 or maybe even keep the number 1 title. Your Virtual Assistant can work while you play. They can handle your customer or client support, post ads, launch email marketing campaigns and manage your email while you're on vacation with your family. Everyone needs a break. Brilliant ideas flow easier to a well-rested mind.
I have found that a lot of business owners are resistant to the idea of virtual support or outsourcing. Believe it or not, it's the wave of the future. It's the quickest way to take a small business global. If that isn't convincing enough, read some of the most commonly heard objections below.
It doesn't make good business sense to pay a Virtual Assistant $20 to $30 an hour for administrative support. The real truth is that most Virtual Assistants can do so much more than administrative related work. Virtual Assistants, the majority, are always taking courses and learning new skill sets to better their craft. I have had regular employees and trust me when I say at the end of the year, it will definitely average out to more than that $20 to $30 hourly rate a VA quoted you. Besides most solo entrepreneurs only need about 20-40 hours per month. At the end of the day, a Virtual Assistant is a business owner. The rate you are paying them takes care of their equipment, software, electricity, internet, phone line and all of the other expenses that come along with completing your projects.
I don't like outsourcing because I don't know if they are really working. Getting virtual support does require a bit of trust. If you have done all of your screening, you have to trust that your Virtual Assistant has your best interest at the fore front. It always funny to hear this one, virtual support is like any other service based business.
I would rather do it myself. I like having control. As a business owner, you will always be in control. Using virtual services doesn't mean that you have lost that. The main difference in a company that uses a Virtual Assistant and one that doesn't is usually revenue. It doesn't matter how talented you are, two or more heads will always be better than one. It takes a village to run a high six, seven figure business. You are looking to reach or maintain that six, seven figure mark, right?
I hope that this article has been helpful in showing you the benefits of using virtual support. My purpose in writing this article is show the true value in this service. I believe in it and I use it.
Trena Stubbs is the owner of Apex Virtual Solutions. Key services include website design/maintenance, online marketing, administrative support and customer service support. Visit http://www.apexassisting.com to sign up for our newsletter and receive free valuable small business tips and resources.