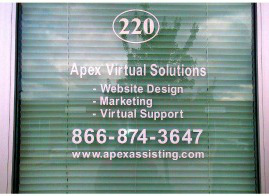 The world is changing and so is the way that companies market their services. The wave of the future in the marketing world is a little something called inbound marketing. If you haven't heard of inbound marketing; well you're already behind the eight ball.
If you have heard of inbound marketing, then you understand how important it is to the advancement of the future growth of your company. The problem that most companies have run into is how to get started with inbound marketing. Successful inbound marketing is a consistent effort and can be outsourced to a professional agency or team if you lack the time or know how. Here are 5 benefits of working with an inbound marketing agency.
1. Go from 0 to 60 overnight
Yes inbound marketing can be learned, but while you and your team are learning the ins and outs of inbound marketing, your competition is in midstride. By hiring an inbound marketing agency, you can get the ball rolling immediately.
2. Learn as you go
A good inbound marketing agency will not only work with you, but for you as well. They will delve into your company and come up with a plan that will give you the best return on your investment. The back and forth interaction between you, your team and the inbound marketing agency will also help you learn what inbound marketing is all about.
3. Research
Part of the expertise of inbound marketing agencies is doing research. The research will help companies figure out their buyer persona so that they are marketing to the right people. The last thing that any company wants to do is pump money into something that doesn't yield a return.
4. Damage control
The old school method of marketing is very expensive. Whether it's placing ads or hiring more sales people, outbound marketing can deplete a marketing budget rapidly before seeing a return. The processes that an inbound marketing agency will implement will show companies ways to drive more traffic to their business at a fraction of the cost.
5. A team of expert marketers
The most important element of hiring an inbound marketing agency is having a group of skilled marketing experts on your side. An inbound marketing agency typically has a group of individuals with expertise in graphic design, web development, content marketing (blogging), and social media all under one roof. These individuals will always stay up to date on the latest marketing and technology news.
The goal of inbound marketing is to drive more traffic to your business. By hiring an inbound marketing agency; not only will you build brand awareness but you will save money in the process.