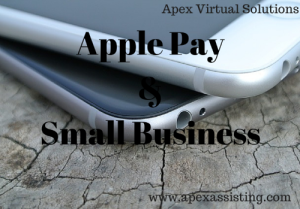 Apply Pay has been a big topic of discussion recently. Apple is taking a crack at the mobile payment market in hopes of faring better than Google and their Android system.
The technology that is used to make mobile payments work is called NFC (Near-field communication) and it's been around for a while now with Android phone. Even though most people viewed it as really cool, it wasn't widely used. There's quite a bit of speculation as to why people didn't use it, but security seemed to be at the top of the list.
NFC didn't seem to resonate with small business owners very much either. Instead, Square and PayPal became the go-to methods for payments with small business owners.
Opportunity
It's understandable why Google and Apple are putting so much effort into the mobile payment market. In the United States alone, consumers make 200 million transactions and spend $12 billion on a daily basis. The process of having to swipe a physical card, show identification and sign receipts is a little dated and mobile payments could be the wave of the future.
Security
Apple is entering the game with a bit more leverage than Google had. Apple offers a more secure platform for their users and they already have 800 million iTunes users with their card information on file.
To use Apple Pay, the consumer must have an iPhone 6, 6 plus, iPad Air 2 or an iPad mini 3. The touch ID on these devices is the first level of security which only allows transactions to take place with each user's unique finger print.
These devices also have a Secure Element chip which encrypts all of your card information. Your debit and credit card numbers are never stored on Apple servers, never shared with merchants or transmitted with payments.
This type of security is not only good for consumers but it's going to benefit business owners as well. They don't have to worry about handling people's credit cards or taking on the liability of information being stolen.
Small Business
Large companies like Macy's, McDonald's, Whole Foods and about 2 dozen others are leading the way for Apple Pay, but that is still less than 10% of the market. According to Peter Donat from First Data, a number of small business owners have been reaching out to their merchant providers and inquiring about Apple Pay. So the interest is there and as more people upgrade their phones and tablets, there will be more consumers with the ability to use Apple Pay.
Small business owners still seem to have mixed reviews about Apple Pay. On one hand, many of them already have payment systems in place that they are comfortable with and they're not eager to change it. On the other hand, some small business owners are eager to show that they are innovative and invite the new form of payment.
For small business owners that are ready to implement Apple Pay, they will have to purchase a new NFC payment terminal, which range from $300-$500. It's strongly recommended to only purchase terminals that have EMV technology. According to Wikipedia, EMV stands for Europay, MasterCard and Visa, a global standard for inter-operation of integrated circuit cards (IC cards or "chip cards") and IC card capable point of sale (POS) terminals and automated teller machines (ATMs), for authenticating credit and debit card transactions.
Having a NFC terminal with EMV technology will make transactions more secure and it's a step beyond the magnetic strip technology that is now 5 years old. In addition to being more secure, by October 2015 it will be required by law that all merchants support credit cards with EMV chips or they will risk accepting liability in the case of a security breach.
Conclusion
Small business owners have a tough decision to make. Should they lead the way and purchase their NFC payment terminals now or should they sit back, wait and see whether or not Apple Pay takes off?
Leave us a comment below and let us know what you think.