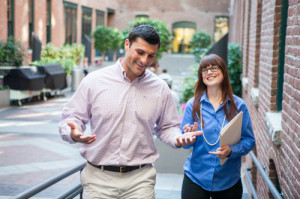 Your website should be your number one sales person. It's accessible by your potential customers 24/7 and it provides hesitant prospects answers to many of their questions. If your website is getting a good amount of traffic but you're not converting those browsers into buyers, something's wrong.
In this article, I'm going to share some tips that will help you convert more of your online visitors into buyers. There's no point in getting a lot of traffic if you're not able to convert them into eager buyers.
You haven't defined your target audience clearly enough.
I'm sure you've mastered the service or product that you offer but how clear are you on who is the best customer or client for your business. You can't close more sales if you don't know who you're talking to.
Defining your target audience is much more than pin pointing an industry, sex or age. You can't go into this thing with a generic group of people you want to target. For example, just because you sell makeup on your website doesn't mean that every woman is a potential prospect.
Knowing what problem you solve is the first step in growing your business. You need to create a detailed buyer persona that fits the profile of who your product or service was created for.
Where does this person live?
Are they male or female?
What type of income do they earn?
Why would they buy from you?
How old are they?
Do they have kids?
Are they married?
Is your service or product for a specific ethnic group?
Are they on social media?
Are they tech savvy?
These are just some of the questions you need to answer when you profile your target audience. Remember that you can have more than one profile. The clearer the better.
Your website is freakin old.
When was the last time you took a good hard look at your website? It's amazing how many throwback websites we find online. Your website is like any other marketing tool for your business, it needs to be appealing and kept fresh for your visitors. I know that a website can be a huge investment but if you're trying to be competitive online, you have to keep it current. You don't have to hop on every new trend; my advice is to stick with a clean fresh look right out the gate. If you're not looking to have your website redone frequently stay away from the fads. Clean and simple can go a long way.
Your content hasn't been updated since its birth.
Most companies have been guilty of not updating their website as frequently as they'd like to. It's so easy to let your website content get outdated because there are so many other things on your to-do list. Fresh content should be a part of your marketing mix. The goal of online marketing is to drive visitors to your website but if your content is no longer relevant; they are not going to keep browsing, sign up for your free offer or reach out to you for more information!
You're not really saying jack!
Having information that relates directly to your offering is important not only to search engines, but also to your buyers. You will never get the credibility and following you want if you're not providing value to your industry. A great way to do this is by…
Blogging on topics that your prospects will find useful and interesting
Creating a frequently asked questions page to provide clarity to your potential buyers
Create free offers like whitepapers, e-books, audios or videos that provide valuable insight to your prospects
What to do next?
Do your online visitors know what to do when they reach certain parts or pages of your website? It may seem like a given but you need to lead your visitors to the well if you want them to drink. A great call to action makes a difference.
The tips provided in this article are just a start to your amazing transformation. If you need additional guidance, you can always reach out to us at 866-874-3647 or send us an email. If you're reading this and you have tips that you'd like to share, please add them in the comments section below.
To Your Success,