We provide a professional street team to distribute your flyers or other marketing pieces in metro Atlanta. Our primary goal is to get your information in front of prospective customers in a timely manner.
According to the industry standards, a flyer distribution campaign typically yields 0.5 to 1% in return. Over the years of doing distribution campaigns, we've seen as high as 15% and as low as 0%. In reality it is not uncommon to receive only 3 or 4 genuine responses from doing a 10,000 piece residential campaign.
Response rates from flyer distribution can vary enormously and there are no guarantees of specific results. You can have a great campaign one month and use the exact same approach and get little to no results the next time around. There are so many variables in marketing like: upcoming holidays, time of year, current economy, offering, the design of your marketing material, targeted area, local competitors, pricing, brand recognition, etc.
Flyer distribution is no different than any other form of advertising, you have to do it consistently and repetitively. Try and have enough to drop in an area 4 or 5 times initially, you are better off dropping 5,000 flyers into an area 4 times than 20,000 flyers into an area once.
Residential Services
Solo Campaign Rates (Apartments, Townhomes and Windshields)
The rates listed below are for solo campaigns distributed to apartments, townhomes and car windshields. If you would like to target single-family homes, please contact us at 866-874-3647 for a custom quote. A solo campaign means that your material will not be bundled with other companies; your flyer will be the only flyer delivered to potential customers. The minimum order is 5,000 pieces.
ADD-ON Services
GPS Tracking – $150
Rubber Band Method – $.05 per flyer (we will add a rubber band to your flyer to avoid fly-aways in the community)
Clear Doorknob Bagging – $0.10 per flyer (is included if we handle your printing)
Flyer Design – $45 (full color front only), $75 (full color front and back)
Flyer Printing – Contact us for a quote
Pick-ups (we pick up your marketing pieces from your location) – $25
Mapping (we create the distribution route based on your target audience) – $199 per campaign (up to 10,000 pieces)
Event Rates
For events, please contact our team at 866-874-3647 or complete the contact form to the right of this page.
Commercial Services
For commercial distribution, please contact our team at 866-874-3647 or complete the contact form to the right of this page.
Residential/Subdivision Rates
For residential/subdivision distribution, please contact our team at 866-874-3647 or complete the contact form to the right of this page.
Frequently Asked Questions
What type of materials do you distribute?
Our distribution team handles all types of printed/promotional materials and product samples.
What type of materials do you NOT distribute?
We do not distribute materials promoting illegal, offensive or adult activities.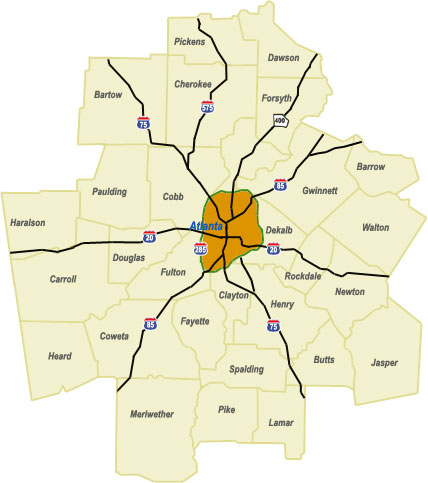 Where do you distribute materials?
Currently, our distribution services are only in the metro Atlanta area. It is the responsibility of the client to ensure that all necessary permits are obtained. It is the responsibility of the client to create the plan for distribution (for an additional fee, our team can develop a distribution plan). If our team is asked by authorized officials to stop distribution, we will pause the campaign. If the client wants to select a different area after work has been put on hold due to violations, the client will be responsible for the fees associated with moving to a new location and work done on additional days.
How many flyers can be passed out per day?
Each person on our distribution team can pass out 300-500 flyers per day. This takes about 6 hours to complete. There are several variables that could affect this number like:
where the flyers are being distributed
if it's door to door, the spacing of the homes, the length of the driveway and the type of doors
the weather
How long will it take to distribute my promotional material?
If your campaign consists of door to door or windshield distribution, your materials will be distributed in the time-frame below.
10,000 pieces will be distributed in 5 to 7 business days
15,000 to 20,000 pieces will be distributed in 7 to 10 business days
For 20,001+ pieces, please contact us for a turnaround time
Do you have a guarantee?
We do not guarantee results with distribution services. Each advertiser's experience is different and the results could vary on a number of factors such as location, promotional material or even the actual service/product.
How do I know that my materials are been passed out and not trashed?
A member of our management team does random site visits to ensure that work is being done legally and in a professional manner. If you need added assurance, you can purchase our GPS distribution services for an additional fee. If you want to keep costs low and avoid this extra fee, you can request a text and/or email at the end of each distribution day so that you can drive out and view each location.
Do you offer printing services?
We do offer printing services for our clients for an additional cost. Please contact our team at 866-874-3647 for a custom quote.
Is there a minimum order?
Yes, the minimum order is 5,000 pieces.
Can I pick my own location?
Yes, you are responsible for picking your own location, although, we don't deliver pre-addressed materials, you can pick the general area (i.e. subdivision, neighborhood).
How do you get my promotional pieces?
We can pick your materials from the location you prefer. There is a $25 fee for this service.
How does the payment process work?
All payments must be made in full by credit/debit card or cash before services are rendered.
What is your cancellation policy for distribution?
Services must be cancelled within 7 days of your distribution date. All services not cancelled within the appropriate time will be assessed a fee equal to 30% of the quoted cost of the project to help offset the compensation provided to our team for reserving time for your campaign. There will be no refunds for campaigns that have already started.
What happens if the weather prevents distribution?
If the weather prevents distribution, the client can either reserve another date to have their items distributed, get a refund (if it's within the standard period for obtaining a refund) or receive a credit towards other services (if applicable). For the safety of our team, we will not distribute materials in the rain, below freezing temperatures, snow, sleet, tornadoes, thunderstorms or any other conditions that may be rendered unsafe. If the distribution campaign has not begun, the client can receive a credit that can be used towards any of the Apex Virtual Solutions services. We cannot be held liable for weather and situations beyond our control.
What happens if our team is asked to leave a location?
If we are asked by residents or local businesses to leave a location, we will relocate. The law in some cities does allow solicitation even when residents are not a fan of it but we cannot and will not distribute in an area where the residents are not comfortable with the situation. This is done for the safety of our team and to avoid any dealings with law enforcement. Relocating does not warrant a refund or credit so we strongly advise clients to have some backup locations.
The Most Important Elements of a Good Flyer Distribution Campaign
Visual Appeal
Your flyer or marketing material above all NEEDS TO BE INTERESTING. You can't create a dull flyer and expect big results. People today have so many distractions and you have to go into the situation knowing that you are competing for their attention.
Clear Value Statement
Why would someone purchase from you or attend your event? You need to show prospects how what you're offering is going to benefit them. If you're not sure where to start, call us today at 866-874-3647. Our team can design your flyer, help with the text and get it printed.
Clear Call to Action
What type of action do you want people to take after reading your flyer? Make it clear what you want them to do whether it's picking up the phone, going to your website or sending you an email.
Contact Information
How will people reach you? Your contact information needs to be visible. No one likes having to search for a way to reach out to you.
The Right Audience 
Have you properly identified your target audience and are you picking the right locations for distribution? Unfortunately not everyone will want or have a need for what you're offering so it's important to make sure you're getting in front of the right people.
Consistency
It's important to understand that flyer distribution is like any other marketing strategy. Regular distribution will help you build local brand awareness and ultimately persuade individuals to buy from you.