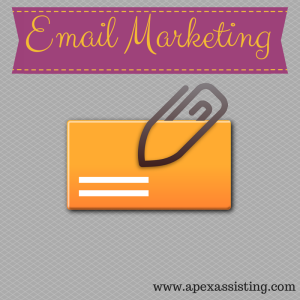 For those that thought email marketing was a thing of the past, look out because it's making a comeback. In recent years business owners have been putting less emphasis on email marketing and devoting more attention to things like social media and video. These outlets have been good for exposure but they haven't really been yielding the most desirable returns.
Much to the surprise of many business owners, email marketing is still one of the most effective ways to generate business. When business owners and marketers create email lists, they have a core group of people that have given them permission to send them emails, which increases the chances of their messages being read. These people have already shown interest by subscribing.
Even when prospects aren't on an email list, the chances of a cold email being read is still greater than a Facebook or Twitter post being acknowledged. Now don't use that comment as a invitation to go on a spamming rampage. As I stated earlier, social media is great and it's here to stay, but your message can easily be lost in the mix or eaten up by the timeline monster.
Email marketing is used differently throughout the buying process, so the way that you present your emails and the frequency will have a direct effect on your success. Here are 3 tips that will help increase the effectiveness of your emails.
Strong Subject Lines
Your subject lines need to be strong and engaging. Studies show that readers are more inclined to open emails if their first name is used in the subject line. Also incorporate capital letters (but not all caps for every word) and keep your subject line to 50 characters or less.
Creativity
Find ways to make your emails eye-catching by using a different font or incorporate color into your emails. Everyone and every business is different so this may require a bit of trial and error. Look for trends that result in more interaction by paying attention to your email analytics.
Mobile Friendly
Make sure that your emails are optimized for mobile viewing. Studies show that people don't like to read emails on their phones if the content doesn't fit properly.  Phones and tablets have become the go-to source for consuming content throughout the day, so making sure that your emails are optimized for mobile is more important than ever before.
Conclusion
Email has been one of the most effective forms of communication for business owners for a really long time. With recent advancements in technology, people are able to receive their emails on watches and even eye wear. For business owners, the challenge isn't whether or not to use email, it's figuring out the most effective way to deliver them.
Let us know what you think about email marketing by leaving a comment below.