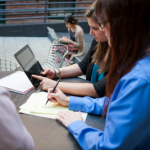 Buyers are constantly evolving making it tougher for businesses to gain their trust. Inbound marketing changes the dynamics of the buyer/seller relationship. Wouldn't it be great if you could lay down a breadcrumb trail tempting enough to lead the customers to you? This webinar is a great introduction to Inbound Marketing. Learn how to prepare and launch your first campaign!
In this webinar, we will cover:
What is Inbound Marketing?
How inbound marketing works
When inbound marketing doesn't work
How to effectively combine inbound and outbound marketing strategies
Getting started with your first inbound marketing campaign?
WORKSHEETS AND SLIDESHOW WILL BE PROVIDED TO ALL ATTENDEES
Date: Wednesday, March 26, 2014
Time: 10:00 am EST to 11:00 am EST
Cost: FREE (if you register before the event starts; recordings will also be available at no cost for individuals that registered for the live event)
Location: Online via Webinar (sessions will be recorded for individuals that can't attend the live event but you must register before the event starts in order to gain free access to the recordings)