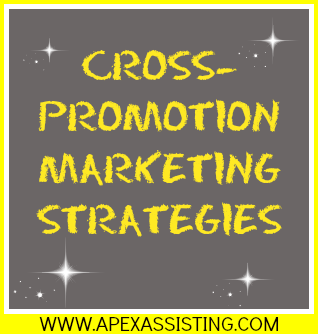 Marketing can be very time consuming and expensive for solo entrepreneurs. Running a solo practice typically means that the owner takes on every role in the company.
In addition to the wearing of multiple hats, there is generally a very small budget to work with. Cross promotion is a great way to help solo entrepreneurs reap huge rewards with little to no money out of the pocket.
Cross promotion uses a combination of partner visibility and word of mouth to boost your sales, credibility and company brand. It is working with other business owners or companies to draw attention to your products and services. The best benefit that cross promotion offers is that every participating party benefits.
Here are a few cross promotional ideas to get you started:
1. What's on your receipt? Print joint promotional offers or messages on the back or at the bottom of your sales receipts.
2. Banners or Link Exchanges. You can post banners or links on each other's website or blog. It is important for you to look for businesses that share the same target market as your company but offer a different product or service. You also want to make sure that what you are placing on your website is tasteful and professional because you don't want your website to start looking like an online flea market.
3. Bundling. Create a package that contains some of your products and services plus some of your partners. Offer this package at a reduced or discounted rate. You can also make it more exclusive by adding the fact that they can only get it from you or your partner.
4. Direct Mail. Direct mail campaigns, if done correctly, can get quite expensive. Have some postcards or flyers printed up with offers from your company and the company that you have partnered with. You can mail them out and split the printing and postage costs.
5. Samples. Give your customers or clients a free sample or coupon from your partnered company and the partnered company should do the same with their customers.
6. Email Marketing. Both partnered companies can email their list with special offers from the other company.
7. Event Marketing. This works really well if the partnered companies share a similar message but different product or service. You can host an event together and work together on attracting attendants.
8. Guest Blogging. Write and submit blog posts to each other's site. This could work really well with a newsletter too.