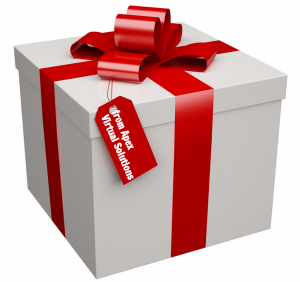 1. Personalized Stationery – A personalized set of sticky notes or note cards is a great gift for your client. Companies like vistaprint.com make it easy for you to design custom stationery and place small quantity orders.
2. Coffee or Tea Basket – Stores like Walmart and Target have a great assortment of coffee and tea baskets.
3. Business Books – There are tons of great business books available today. A great gift idea for your client is a business book that focuses on a problem you know they're currently having. For example, I recently purchased Jab Jab Jab Right Hook by Gary Vaynerchuk. This book was written to help readers understand how to stand out using social media. Another example would be The Road to Going Virtual which helps aspiring Virtual Assistants get started in setting up their Virtual Assistant Business. Great gift ideas!
4. Starbucks Gift Card – Most business owners love coffee or tea. A gift card from a local coffee shop is a great gift.
5. Coupons – Coupons or discounts for your business are the perfect gift for clients. Everyone likes being able to save a buck here or there.
6. Thank You Cards – If you're strapped for cash a thank you card can go a long way. Your card can be sent via regular mail or via email to your clients. We all like to feel appreciated and this is a great way to let your clients know that they matter.
7. Visa Gift Card – When you want to give your clients a gift and you're on the fence about what you should get, a Visa gift card is a safe route. A Visa gift card allows your clients to purchase what they'd like so it simplifies things for you.
8. A Bottle of Wine – If you know your client is a wine lover, a nice bottle of wine is a great gift idea to help your client unwind during their holiday break.
9. Phone Case – If your client has an iPhone or Samsung Galaxy cell phone, Vistaprint allows you to create custom phone cases. This is a super duper gift idea. You can create a simple design that allows your clients to promote their business wherever they go.
10. Coffee Mug – Great idea for that coffee addict (like myself, lol)
Other gift ideas include:
11. Gourmet food or cheese basket
12. Pens
13. Fruit basket
14. Business card holder
15. A set of coasters
16. A donation to their favorite charity
17. Engraved coffee mugs
18. Edible Arrangements
19. Tickets to a game or event
20. Retail gift certificate
21. Calendars
22. Customized thumb drives
23. Wireless mouse
24. Customized mouse pad
25. A certificate for marketing or coaching services