100+ Marketing and Digital Acronyms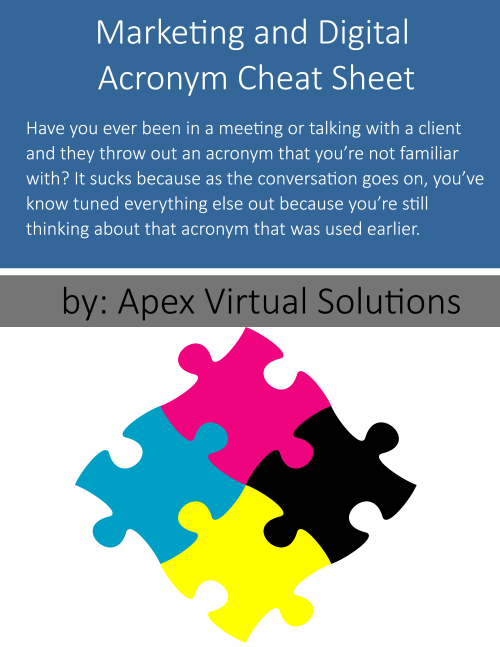 Have you ever been in a meeting or talking with a client and they throw out an acronym that you're not familiar with? It sucks because as the conversation goes on, you've know tuned everything else out because you're still thinking about that acronym that was used earlier. Here is a handy cheat sheet that you can bookmark that will make things a lot easier.
ACD – Associate Creative Director
AIDA – Attention, Interest, Desire, Action
AJAX – Asynchronous Javascript and XML
API – Application program interface
AOV – Average order value
AR – Augmented reality
ASP – Application service provider
ATD – Agency trading desk
B2B – Business to business
B2C – Business to consumer
BI– Business Intelligence
CAC – Customer Acquisition Cost
CCO – Chief Creative Officer
CD – Creative Director
CLV – Customer lifetime value
CMS – Content management system
CPA – Cost per acquisition / action
CPC – Cost per click
CPL – Cost per lead
CPM – Cost per thousand
CPV – Cost per view (see also PPV)
CR – Conversion rate
CRM – Customer relationship management
CRO – Conversion rate optimization
CSS – Cascading style sheets
CTA – Call to action
CTR – Click-through rate
CX – Customer experience
DM – Direct mail (or 'Direct message', in Twitter circles)
DMP – Data management platform
DNS – Domain name system
DR – Direct response
DSP – Demand-side platform
ECD – Executive Creative Director
ECPM – Effective CPM
EPC – Earnings per click
EPM – Earnings per thousand
ESP – Email service provider
FB – Facebook
FBML – Facebook Markup Language
FTP – File transfer protocol
GA – Google Analytics
HIPPO – Highest paid person's opinion
HTML – HyperText Markup Language
HTTP – Hyper Text Transfer Protocol
HTTPS – Hyper Text Transfer Protocol Secure
IM – Instant Messaging
IMAP – Internet Message Access Protocol
IP – Intellectual property (or 'Internet Protocol')
IPTV – Internet protocol television
ISP – Internet service provider
KPI – Key performance indicator
LTV – Lifetime value
MA – Marketing Automation
MoM – Month on month
MLM – Multi-level marketing
MQL – Marketing Qualified Leads
MRR– Monthly Recurring Revenue
MVT – Multivariate testing
OEM – Original equipment manufacturer
OS – Operating system (sometimes this is used for 'open source')
PHP – PHP Hypertext Preprocessor
POS – Point of sale
PPC – Pay per click
PPL – Pay per lead
PPV – Pay per view
PR – PageRank
PV – Pageviews
QA – Quality assurance
QR Code – Quick response code
QS – Quality score
RFI – Request for information
RFP – Request for proposal
ROI – Return on investment
RON – Run of network
ROR – Ruby on Rails
ROS – Run of site
RSS – Really Simple Syndication
RT – Retweet
RTB – Real time bidding
RTD – Real time data
S2S – Server to server
SaaS – Software as a service
SEM – Search engine marketing
SEO – Search engine optimization
SERP – Search engine results page
SLA – Service level agreement
SM – Social media
SMART – Specific, Measurable, Attainable, Relevant and Time-bound
SME – Small / medium enterprise. (aka SMB = 'business')
SMM – Social media marketing
SMO – Social media optimization
SMP – Social media platform
SMS – Short message service
SOV – Share of voice
SOW – Statement of work
SSL – Secure Sockets Layer
SSP – Supply-side platform
SWOT – Strengths, weaknesses, opportunities, threats
TLD – Top level domain
TOS – Terms of service
UCD – User-centric design
UI – User interface
UGC – User-generated content
URL – Uniform resource locator
USP – Unique selling proposition
UV – Unique visitor
UX – User experience
VAR – Value Added Reseller
VOD – Video on demand
VM – Viral marketing
WOMM – Word of mouth marketing
WYSIWYG – What you see is what you get
YOY – Year on year
YTD – Year to date
XML – Extensible Markup Language
ZMOT– Zero Moment of Truth
Click here to download the pdf version of the Marketing Acronym Cheat Sheet.
Have any others you'd like to add to the list? Feel free to do so in the comment section below.
For more great tips, subscribe to our newsletter to today or use the form to the right of this page to get email alerts for new blog posts.