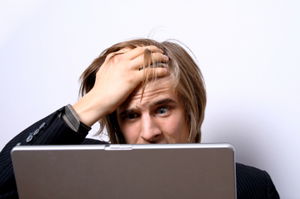 Do you have a newly designed or updated website that is not performing that way you expected? Let me guess, you spent a lot of time and money with your web designer trying to create the perfect look and feel. Now the website is finish and you're not getting nearly the amount of traffic or revenue that you expected? Am I right?
I think that as a whole, most new business owners don't really understand what it takes to have a successful website. In this article, I want to cover some of the biggest mistakes made by new website owners and what web designers need to do to help prevent some of the disappointment.
What is the true purpose of your website?
Everyone is online these days and as a business owner, you want to be where your target audience is hanging out. Most purchases begin with an online search so you want your business to be one of their online stops. Your website also gives your prospects 24/7 access to your business. Your website is your virtual office space that allows people to learn more about what you do and how you can help them.
Having a website doesn't mean that all of a sudden people are going to find you online and instantly buy what you're selling. You have to guide people to your site and once they get there it may take time for them to trust you enough to give you their business.
You've spent a lot of money on your website, why are you not on the first page of Google?
It's just terrible that you've spent all this money to get an aesthetically appealing website and you're not even on the first page of Google! What the heck is that all about? Most new business owners don't realize that having a pretty website doesn't mean that you're going to be blessed by the Search Engine Gatekeepers.
Website designers have to do a better job in explaining that building the website is just the beginning. In order to make your website a cash cow, there has to be lots of work done after its creation. This work by the way is called SEO or search engine optimization. You can read more about SEO here.
Let's say that you have paid for search engine optimization and online marketing, guess what? It's not an overnight process. It takes time to get your site ranked and even when it's on the 1st page, it DOES NOT end there. SEO is an ongoing effort.
It is best that you speak with a professional SEO or online marketing specialist to help you understand how it works and what needs to be done with your website. If you don't have someone that you trust in the industry, schedule a consultations with a few different companies and go with your gut feeling.
 Why can't I update my website?
New business owners are typically terrified of losing control. Most website designers have spent a lot of time learning their skill-set  It's a bit unrealistic for you to think that you can learn how to do their job in a few days. Often times, designers aren't given nearly enough credit for their talents. Your website designer should be able to train you on how to make minor updates to your website like adding pictures or editing content, but remember that it's not their job (unless this is in your agreement) to teach you how to use Photoshop, edit CSS files and other design tools to create custom banners, graphics, etc.
Having a website is a great investment, but it is important that you go in with realistic expectations so that your experience is as pleasant as possible. Do your homework before diving in.
I hope that this has been helpful and or entertaining (at least, lol). When you get a chance please take a minute to review some of our other posts, comment and or share our blog posts with your friends and followers. You can also subscribe to our newsletter to get access to tips and resources that aren't shard in our blog.