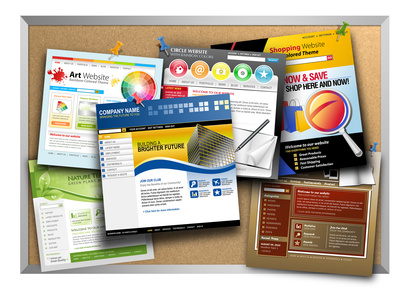 How much is it going to cost me? $500? $5,000? $15,000? This is typically one of the first questions I hear from business owners that have made the decision to get or revamp a website. And like a broken record, I explain to them that it depends on the goals and features they want incorporated into their site. In a perfect situation, I'd schedule a consultation so that I can learn more about the business of the prospective client and uncover the purpose and expected features of the website.
A red flag should pop up when a designer can give you an all-in-one quote without knowing anything about your business or why you need a website. Often times business owners don't truly understand the work that goes into creating the perfect website. If done correctly, it's more than just being pretty to the eye.
If you own a business, your website is one of the most important online marketing assets to your bottom line. This is the first impression visitors will get about your business. I understand that most companies have budgets in place, but trust me when I say your website is not where you want to cut corners.
The "I just need something basic" syndrome
I don't need anything fancy or expensive. I'm just looking for a basic website just to have an online presence. This is one of the other common ingredients of a conversation I generally have with business owners. I get it with the budget thing, but let's be honest, people do judge a book by its cover and the same will hold true for your website. The features and look of your website have to match how you want to interact with your customers.
The problem with shopping around
The worst thing a business owner can do regarding their website is to price shop. This is a terrible way of finding the best designer for your project. There is nothing wrong with looking for the best value, but it should never be based solely on price. A few things you should consider when getting multiple quotes is:
How long has the company or person been designing websites? Experience is extremely important because you want someone that can handle unexpected problems that may come up during your project. You also want someone that will be there for future questions. There is nothing worse than hiring a designer, getting your website started or created and then the designer disappears. You need someone that you can reach out to if you have questions or need support months after the project has been completed.
Are you comparing apples to apples? When reviewing quotes, it's important to take a close look at what you are getting for each proposal. The website quote that is the most expensive may actually be giving you the biggest bang for your buck and it can also be the other way around.
Does the company or designer you are hiring have SEO or marketing experience? At first glance, I know this may seem like a silly question. After all, you are just looking for someone to build your website. This method of thinking should be completely washed out of your mind. There are over 300 million websites online so you really need someone that can help yours stand out. While it may be tempting to let your neighbor's son design your site for 50 bucks, you need to do your due diligence. Everyone knows someone that builds websites in their spare time, but it's more than knowing a little HTML, WordPress, Joomla or Drupal. There is an art to creating a great site. Would you let your cousin add a new room to your home just because he built a cool dog house during shop class in junior high?
Is the company or designer familiar with website conversion? The goal of your website is to definitely attract more business. You need a designer that can give you advice and help you create elements on your site that will convert visitors in to leads. 98% of all new website visitors won't return to your website, so this may be your only shot to hook them. This is a key component to a successful website.
Give me all the bells and whistles
Don't get fooled into getting more website than you need. Your designer should consult with you to learn about your business and help you decide what type of site will work best for you. Now at the same time, if your business model requires a hefty site, understand that it will cost you. Some things that typically drive up design costs include heavy graphics (videos, audio, images, etc.), membership or subscription features, e-commerce functions, project management or client log-in features, online magazine sites and custom graphics just to name a few.
Are there any cost other than the website design fees?
Other fees that you'll need to budget for will include:
Your Domain Registration 

Website Hosting
Search Engine Optimization
Copy-writing (only if you need to hire professional writers for the content on your website)
No matter what price you pay for your website or who you let design it, make sure that it serves its purpose. A great designer doesn't always mean expensive and an inexpensive designer doesn't always mean poor quality. Looking for more great tips, sign up for our newsletter or subscribe to our blog using the form to the right of this page. If you would like a consultation or a free website analysis, call us today at 866-874-3647.