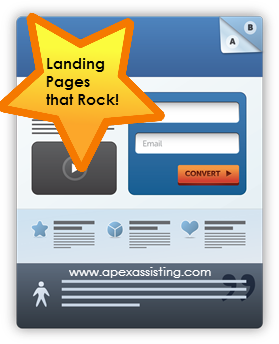 It is a known fact that there is a very small window in capturing the attention of the visitors to your website. Your landing page is the key to capturing leads for your business. There is nothing worse than having this master piece of a landing page created and seeing little to know change in your click through rate.
There is a definite science to having a successful landing page and part of the process may require testing different layouts, content and even images. Sometimes there is no easy or quick fix.
In this article, I want to share with you some tips that will make your landing page rock!
Speak Directly to Your Audience
This is your moment, your chance to have an intimate conversation with your targeted buyer. Your content is how you let online visitors know that they are in the right place and that you can in fact help them. Here are some questions your content should answer.
What type of service or product are you offering?

Why would someone need to use your service or product? What problem is it solving?
When you talk to prospects or clients, what are some of the things you hear quite often? If you're noticing a common theme, this should be addressed on your landing page.
Answering these questions on your landing page is a great starting point. It's okay to avoid the fluff, consumers are smarter than ever and they want to know if you can truly help them or if you're simply there to collect a check. You have to speak to them in a voice and tone that they can relate to. Be relate-able, be informative and be helpful.
Strong Headline
Okay it's now or never. Your headline needs to say something and say it loud. This is your time to really make them stop in their tracks.
Poor Example: "Local Social Media Expert"
Better Example:"Local Social Media Expert with a Track Record of Increasing Leads by 15%"
Remove the Clutter
You want your website to be as clutter free as possible. Stick with the key points. Sites that are busy can intimidate or scare off your visitors. Don't confuse them with chaos. You want your landing page to focus on one specific service or product.
No Need for a Navigation Bar
The purpose of your navigation page is to keep your visitors focused on one key message. Having a navigation bar gives your visitors too many options and an easy out. You don't want visitors clicking on links or tabs that take them away from your landing page.
Make the Sign-up Process Easy
Don't complicate things. You don't want to scare your potential leads away by asking for unnecessary information. Only require things that will help you better service your customers or leads.
Showcase Your Success
Do you have feedback from your raving fans? Your landing page is the perfect place to showcase it. Displaying your testimonials is a great way to build credibility and flaunt your expertise. If you don't have testimonials maybe you have one of the following that can be displayed:
A list of customers or clients you've worked with

Press releases or online mentions about your business
Usage statistics
An Effective Call to Action
Lead your visitors in the way the direction you would like them to go. Having a strong call to action makes it easy for people to connect with you. You take the guessing out of the equation by giving them a direct action. Construct your site in a way that flows logically and points your visitors to your sign-up form.
Is there something you'd like to add? I love it when you get involved, please comment below.
For more great tips, subscribe to our newsletter to today or use the form to the right of this page to get email alerts for new blog posts.