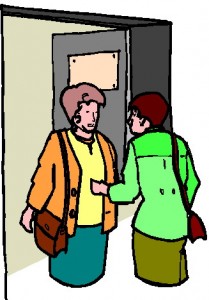 The key aspect of conducting a sales consultation isn't just about what you say, but how you say it. Speech, tone, and a willingness to listen are just a few of the steps needed when making a sales call. Every step is crucial to either making the sale, getting the okay to send a proposal or being given that dreadful "I'll call you back or I need some more time to think it over."
Speak with a friendly, yet firm tone. Tone is one of the most important factors when having a consultation.
Approach the call as if you are helping the client. Your product or service should be geared to show the client that what you're trying to sell them will somehow help them in the future. You should be sincere in your presentation.
Be knowledgeable. You have to know what you're talking about and you have to sound like it by speaking with confidence.
Answer the customer's question promptly. If a customer wants to know more about the product or service you have, then by all means explain it. If what the prospect asks isn't something you can provide, then be honest. People don't like being jerked around. Besides if you can't do something you promised, it will eventually come to the surface and you will most likely lose that client and credibility.
Respect. Treat every prospect with respect. Remember not to interrupt or trying to over talk them.
Listen to the prospect. Listen to what the prospect says if they say because it will help you overcome the objection and present another opening to solidify the deal.
Two Way Communication. Make the consultation interactive; allow the prospect to participate in the conversation. It shouldn't be you doing all of the talking.
Always close your statements when you are finished talking. Many people don't ask for the sale after telling the customer everything about the product or service. This "no-no" will not only waste precious time, but will allow the prospect to think about whether or not they need what you're selling. In that case they will say no. By asking the question, you now make the decision that much more direct. Now your prospect will have no choice but to answer yes or no. It's better to know upfront than to spend days, weeks and sometimes even months running after a prospect that doesn't want to do business with you.
What the business owner expects
In order for you to be successful in closing the deal, you have to know what your prospect expects from you. When you're speaking with the business owner or decision maker, you must be able to achieve three things.
Gain understanding of the prospect's situation. Business owners want to hear and feel that you understand the situation that they're currently facing. You need to understand what their pain or problem is and how it's affecting their business. Make sure you're asking questions and demonstrating that you have knowledge around their situation. Learn how to probe and get them to uncover the real issues. Business owners will tell you everything you need to know to close the sale if you listen to them.
Don't be afraid to probe. No business owner will want to do business with you if they don't believe you can satisfy their needs or solve their problem. The questions you ask and the responses you give must have a significant impact on the prospect. In addition to listening to what they have to say, share with them what you see.
Become a problem solver. The purpose of the consultation is to provide a solution for the business owner. After you've assessed their needs offer them solutions that will help them solve their problems. Offer them some creative methods that will get them the results they need.
Have you mastered the art of conducting a sales consultation? What are some of the tips that you've used in the past? We'd love for you to comment and share below.
Author Credits—
Apex Virtual Solutions is a virtual provider of website design, online marketing and administrative support. Our key focus is to help small business increase their revenue through creative strategies, systemizing and ongoing support. For more great tips, subscribe to our monthly newsletter.