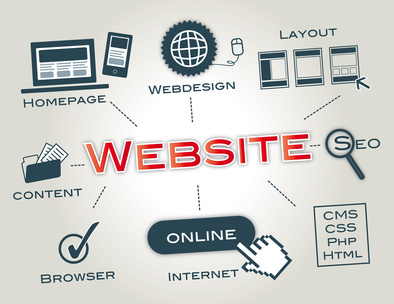 Creating an effective homepage can be challenging because it has to quickly capture the attention of visitors, clearly identify what solutions you provide and prompt your visitors to take action. Since there are so many websites, some business owners like to put as much information as possible on their homepage; in hopes of enticing visitors by showing them everything they have to offer.
This concept is understandable but it may not be the most effective. In fact, it's just plain awful.  Have you ever driven by a convenient store that had way too may advertisements plastered all over the doors and windows?  It makes everything look too crowded and customers end up not paying attention to anything or even worse turning away.
A website's homepage works the same way.  The layout should be kept really clean and focus on what's most important.  A great homepage  starts with a good header.  The header should be  bold and straight to the point.  Your visitors should never have to dig through content to figure out what you offer. With so many options on the internet for every industry, internet browsers have short attention spans.  So your header has to be attention grabbing and informative.
Your homepage should also be aesthetically appealing to your visitors.  Pay close attention to details such as font, arrangement and images.  People are drawn to things that look good.  Take yourself out of the equation when designing your homepage; remember that it can't be designed based on your personal taste.  You have to pay attention to your buyer persona and design your homepage with them in mind.  For example, if your ideal clients are men, chances are you will want to stay away from certain colors like pinks and purples.
Lastly, make sure that you have a strong call to action on your homepage.  You have to guide your visitors in the direction that you'd like them to go. Tell them to order now or click on this button for more information, etc.  By being straightforward, it shows that you are confident in the solutions that you offer.