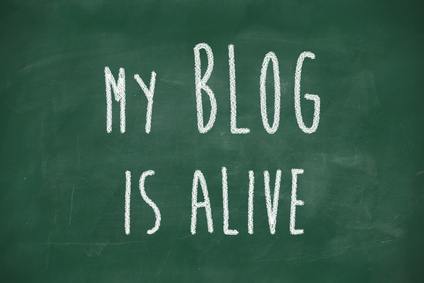 I enjoy blogging and expressing myself through writing but I have to remind myself that doing it for work purposes is less about me and more about what our customers, readers and followers want to read about. Because of this I found myself getting a little stuck when it was time to come up with really good topics and content that people would want to read.
I had written a number of blogs about marketing, social media and small business but I was beginning to feel like I was about to run into a huge brick wall and not be able to come up with ideas or topics to blog about that would really appeal to my readers.
At some point everyone struggles with coming up with new and interesting blog topics. Yes, we all go through it even people doing it for a living. Here are 5 tips that will help you when you're in a slump for new blogs.
Tip 1: Search Keywords
Searching for industry related keywords and using keyword tools are a great way to figure out what's hot and what people are looking for. Free platforms like Wordtracker or Wordpot are great for finding keywords. Use these tools to integrate the keywords into our topics to attract visitors.
Tip 2: Pay Attention to your followers
Your Facebook friends, Twitter followers, etc. are great resources for coming up with blog topics. Take a little time to browse through a few of your followers' pages to see what they are interested in and who they are following. You may find out that there are many similarities between them. Pay attention to what they are talking about, look at their pictures and watch their videos. Take into consideration what your fans are most interested in and create your blog topics around this information.
Tip 3: Interact with your followers
Piggybacking off of tip number 2, you should also interact with your followers. Comment on their posts, like their pics and retweet, people love when you retweet or share their posts. This will allow your followers to be more comfortable with you and vice versa. They will then be more inclined to give you genuine feedback and even tell you more about why they decided to follow you. You can then use this information to help you come up with blog topics that will continue to entertain them and keep them coming back for more.
Tip 4: Stay abreast & react.
No matter what industry you are in, it's really important to stay on top of the latest news. This may be one of the easiest ways to come up with great blog topics. Staying abreast of your industry is easier than it has ever been before because we have so many outlets. One of the keys to creating an awesome blog topic is to be one of the first people to write about hot topics. Advancements in technology allow us to get updates whenever there is groundbreaking news, take advantage of this and be one of first to blog about the latest news in your industry.
Tip 5: Don't Take It Personal
It's easy to get caught up in personal feelings and wanting to only write about topics that are most interesting to you. We have to remind ourselves that we are blogging for our customers, clients, and followers. The goal is to create content that is entertaining, fun and helpful.
Take a look at your analytics and see which blog topics are being read most often and spend more time in that area. Remember, readers follow us for a reason and we must pay attention to why they decided to follow us in the first place.
Do you have any ideas you'd like to share? What do you do to get out your blog topic finding rut? Join in on the conversation by leaving your comments below.