WordPress is an awesome solution for a business website. It's one of the most flexible and affordable options available for companies looking for a dynamic web presence. WordPress is the most popular content management system used today. It's the platform of choice for over 58% of websites using content management systems. One of the biggest perks of using WordPress is the number of themes available, both free and premium. This huge selection of themes can be both good and bad. It's good in terms of variety, but bad in that it can be an absolute nightmare finding that perfect theme for your business. So what the heck is a business owner to do? Here are some features that business owners should look for in their quest for the perfect WordPress theme.
Responsiveness
Having a website that can adapt to any device is crucial. You want your business website to look awesome no matter what device is being used to view it.
SEO (Search Engine Optimization) Friendly
A great website theme is developed and updated with current web standards to ensure maximum search engine optimization. If you need advanced SEO solutions, there are tons of plugins available.
Flexibility
The theme you choose needs to be flexible. Does it allow you the ability to customize it to fit your business needs? Does the theme have the ability to adapt as your business model changes? You want a theme that allows you to add new features as needed.
Is there a live demo available?
Themes that have a live demo allow prospective users to test the waters, so to speak. You get to see how it really looks in action. Is it compatible with all browsers? Is it user-friendly? How is the loading time?
Wanna See What I Like?
Here are some of my favorite themes for business.
Weaver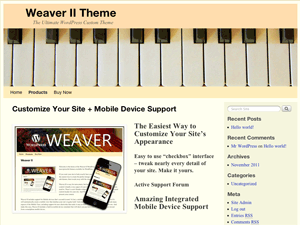 Weaver is authored by Bruce Wampler and is one of my favorite WordPress themes. This theme is very user-friendly even for individuals with little to no WordPress experience. The administrative interface is very straight forward and everything is written out in plain English. Some of the features include:
mobile friendly
advanced header and footer control
full font control
full sidebar layout control
Interested in learning how to use the Weaver theme? Join us for our live FREE webinar training series.
Website: Download the Weaver theme
Cost: Free and Premium ($29.95)
Headway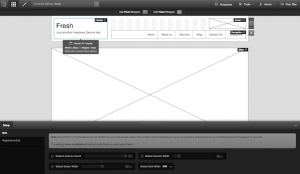 Headway is a drag and drop theme builder that gives you complete control to create your business website. Headway's visual editor lets you build anything your mind can conjure up. If you dream it you can achieve it (corny right, lol). Some of its features include:
unlimited layout possibilities
unlimited sidebars
mobile friendly
live CSS editor
easy editing
Website: Download the Headway theme
Cost: $99
Thesis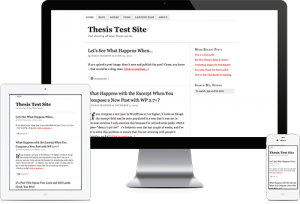 Thesis is a powerful, high quality framework. This theme excels when it comes to SEO, website flexibility and speed. Some of the key features include:
various layout options
custom hook feature that allows you to easily modify the functionality of your Thesis theme
Website: Download the Headway theme
Cost: $87
Do you have a favorite WordPress theme that you'd like to share? I'd love for you to share it in the comments section below. Thanks for reading!
All the best,