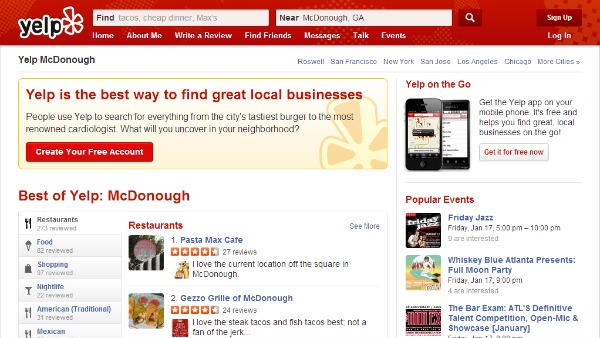 Yelp is a popular online directory that allows online visitors to search and post reviews on almost every type of business you can name like mechanics, security alarm companies, restaurants, sushi bars, spas, optometrists and more. Yelp was founded in 2004 and since its start; it has been responsible for over 47 million customer reviews for various local businesses.
Yelp provides a free account for business owners that allow them to post photos, message customers and respond to submitted reviews. Having a profile on Yelp is a great way to increase your online awareness because of the number of visitors they receive on a daily basis.
Why Use Yelp?
It's hard gaining the trust of potential customers in today's market.  The reviews your customers post on Yelp can increase your revenue if used correctly. Customers often base their buying decision on what others have experienced and getting good feedback is almost a guarantee in getting those phones ringing.
Getting Started with Yelp
Here are some tips on how you can use Yelp to help your business gain more exposure.
#1: Do your homework
As with any marketing strategy, the first step is research. Before you start creating your own profile, check out some of your competitors to see how they're currently using Yelp for business. Be sure to review companies that have both high and low ratings so that you can get some tips on what you should and shouldn't include on your own profile. Online snooping is a great way to learn from someone else's mistakes and successes.
#2: Create a profile
Now that your research is done, create a profile for your business. Make sure that you are as descriptive as possible. You should
Check for errors or typos in your content
Provide accurate address details
Upload high quality photos
Include descriptive information about your business like what you do, who you work with, hours of operation, pricing, parking details, etc.
#3: Images Sell
I know I mentioned uploading high quality photos in tip #2 but it's really important that you get some great photos up on your profile. This is a good way to make your business stand out and it's a great way to showcase your offerings.
#4: Respond to Customer Reviews
Most business owners don't utilize this feature as often as they should. Interacting with your customers is an awesome way to show how much you care about their business. Don't just respond to the positive reviews; find a tactful and strategic way to handle the negative reviews as well. If you don't have time to respond to customer reviews, designate a person to help you manage your online profiles.
We are all human and we understand that everyone can have a bad day, reach out to the customers that don't seem happy and see if there is a way you can rectify the problem. People reading this will often be willing to still give you a try even if someone has left negative feedback.
#5: Point People in the Right Direction
If you want customer reviews, you have to let people know you're actively on Yelp.  You can display signs at your location, on social media and on your website to let customers know you'd like their participation. You can even send out mailers, emails or hand customers a card asking for their feedback. As a special incentive, you may even want to throw in a coupon in exchange for a great review.
Using Yelp for business is like any other strategy; you can't just set it up and forget it. To be the most effective in any form of online marketing, you have to be present, interacting regularly and measuring your results. Has Yelp helped you win over some customers? Do you have questions about using Yelp that weren't addressed in this blog? No worries drop me a line in the comments section below.