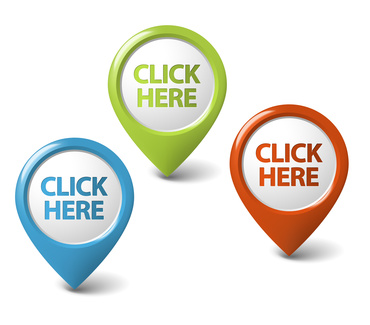 Studies have shown that over 90% of website visitors will never come back. That's fine because everybody that visits your website does not fit your buyer persona. However, for the ones that do; you need to find out who they are and how to get them into your funnel.
The best way to do this is to have a Call to Action (CTA). Once your ideal client has visited your website and read something they found helpful; there should be simple instructions for the next step. The last thing you want to do is get a potential client excited and leave them hanging.  Chances are they will continue to search the web to see if there was anything better and possibly not return to your site.
A Call to Action is the best way to ensure that you don't miss your opportunity to capture a potential client.  Smart marketers know that they have a small window to capture leads, so they make sure that there are CTA's throughout their websites.
Something like a simple "Click Here" button tells the readers that there is more goodness in store. Your Call to Action should be strategically placed so that the potential client can see it immediately after reading your content.  Depending on the layout of your website, you may want to place it at the top of the page, the bottom or maybe even on the side.
So what type of call to action should you use?  Well it depends on the type of industry you are in and how aggressive you want to be.  If your goal is to just get a lead in the top of the sales funnel, you may offer something like a free EBook but if your goal is to get them to the middle of the sale funnel, you may offer something like a free demo.
Having a Call to Action is imperative in the Inbound Marketing process because of the complexity of turning a lead into a client.  With so many websites on the internet, you can't afford to take shortcuts.  Good content will drive traffic to your site but a Call to Action will put leads in your sales funnel.
Want to be notified when new blogs are posted? Subscribe to our blog using the signup box to the right of the page. Need help our have a questions, contact us today for a free consultation.