WordPress is one of the most popular platforms for business websites. Everyone's jumping on board, big and small companies. The one thing that seems to remain the same with all companies is the need to have a strong online presence and search engine optimization is a key component in getting this done. Google, Bing, Yahoo or any of the other search engines really don't care how cool or pretty your website looks. These search engines are scoping the scene for things like your alt tags, meta descriptions and so on. Here are some tips for you to get your website more visibility in 2014.
Update Your Permalink Structure
Search engines like Google can't give you the recognition you deserve if they don't know what your website content is all about. Poor permalink structures will hurt your ranking. You want your permalinks to include keywords about your posts or content on your website. The default permalink for WordPress will look similar to this:
www.apexassisting.com/?p=215 (this is terrible for SEO purposes)
You want to change your permalink structure to %postname%. Once you update your permalink structure, it should resemble this:
www.apexassisting.com/atlanta-wordpress-training (notice how the keywords are located in the URL)
How do you find the settings to change your permalink? Take a look at the screenshots below.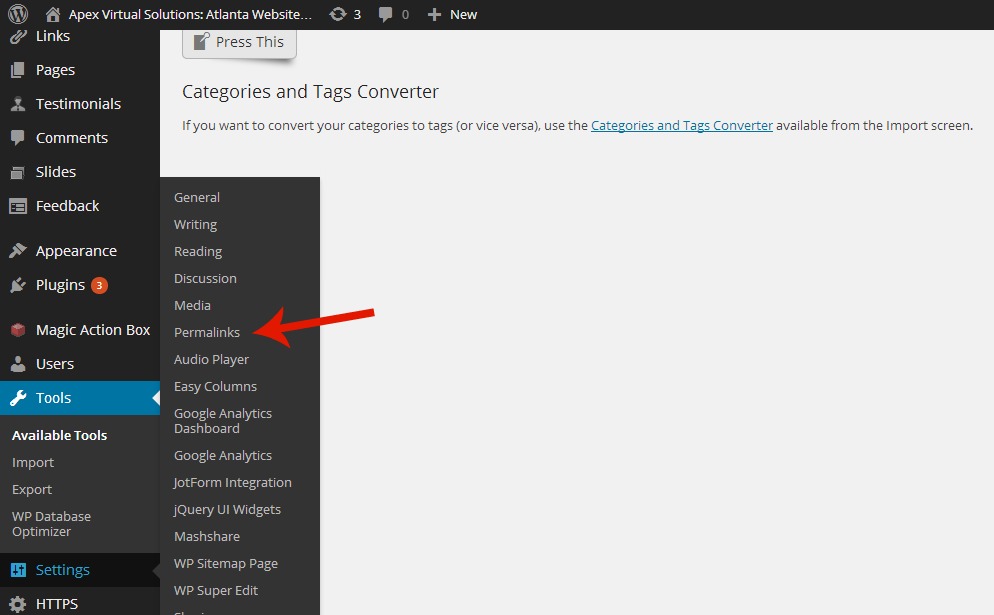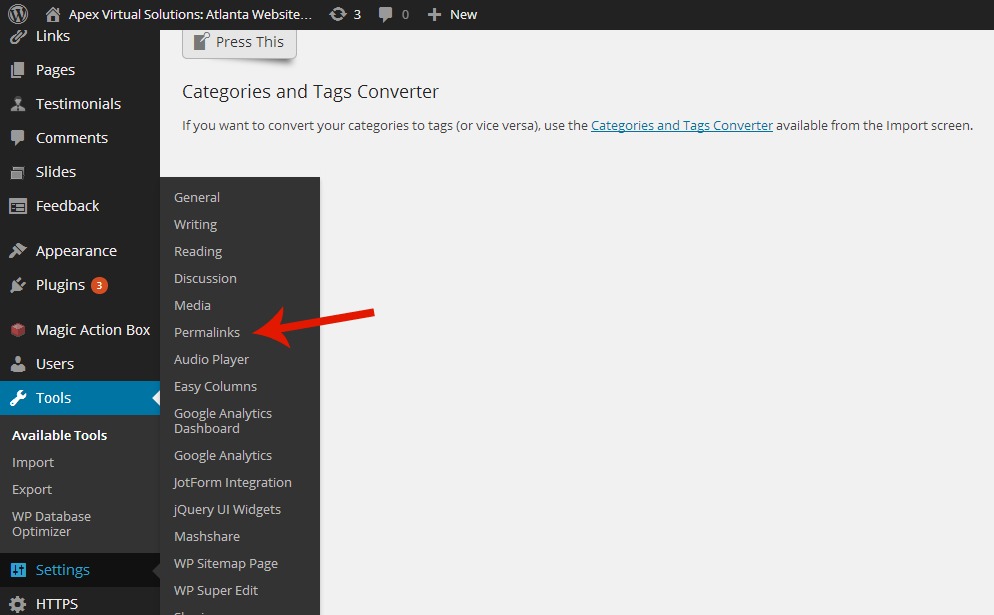 Use an SEO plugin
SEO plugins make it super easy for both novice and expert marketers. Some of my favorite SEO plugins are:
Each of these plugins have instructions available online so that you can get the best overall experience.
Use Search Engine Optimized Themes
Not all themes are created with SEO in mind. You want to select a theme that is fast performing and has good clean coding on the backend. If you're unsure of the coding or performance of the theme, you will need to rely mostly on reviews from other customers that use the theme. These reviews can be found by doing a Google search using the following formulas:
"Theme Name + Reviews"
"Theme Name + Customer Feedback"
"Theme Name + Performance"
Use a Plugin like Google XML Sitemaps
Every website needs a sitemap. Sitemaps make it easy for search engines to crawl your content. Using a plugin like Google XML Sitemap is a simple way to create an effective sitemap.
Content
Quality content is the best method for optimization. Keeping fresh, unique information on your website will weigh the heaviest in terms of overall impact on SEO. Blogging is a great way to keep your site current. If you don't have the extra time to blog frequently, you might want to look into creating a guest blogging feature on your website.
Optimize Your Images
Optimizing your images is another simple way to get your website search engine ready. You can optimize your images by:
Renaming your files with keywords
Reducing the size (not quality) of your images to ensure fast loading time. Speedy loading time works in the favor of both search engine ranking and your online visitor's experience.
Increasing your online brand is a full-time job and will take a lot of effort and consistency. Are there some tips that have worked well for you that you'd like to share? Or maybe you have questions? Either way, I'd love for you to join in on the conversation by submitting your feedback in the comments section below.
Would you like to have your website optimized but would rather delegate this project to someone else? Click here to learn more about our SEO services and to request a free consultation.
To Your Success,