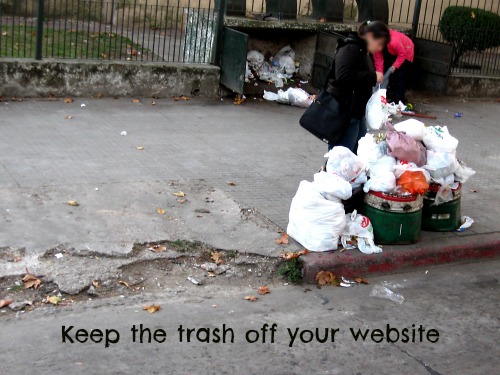 I consider myself to be a pretty tolerable guy but one things that gets under my skin is comment spam. Spammers are always trying to come up with clever ways to sneak irrelevant information onto websites that don't belong to them.
Thank goodness there are ways to fight the dreaded spammers and beat them at their own game. Unfortunately I think that spammers are here to stay. Anytime there is a place for the general public to leave a comment, there will be spam. The goal is to stay one step ahead of the spammers and do your best Dikembe Mutombo impression and block them.
Here are a few tips that may help you avoid those annoying spammers. 
Adjust your settings
Adjust your settings on your WordPress site by going to Settings and then Discussion. Here you will be given the option to receive emails when a comment is posted or if a comment is being held for moderation. I recommend holding all comments for moderation.
Next you will see the option to have an administrator approve comments before they are posted. There is also an option that will allow a comment author; that was previously approved, to continue to comment without having to be approved thereafter. This simply means that if you approved someone once before on a particular post, you trust them and you don't mind them making additional comments.
Anti-spam plugins
Anti-spam plugins are a great way to block out unwanted messages. The most popular plugin for spam is Akismet. Akismet comes with every WordPress installation and it learns the users' habits. As users mark comments as spam or legitimate, Akismet will follow suit and help users continue to block spam.
The great thing about WordPress is that there are many options available to help you win the war against unwanted content being posted on your website. Here is a list of some popular anti-spam plugins that may work for you.
One thing to keep in mind if you decide to use an anti-spam plugin is that there is a chance that some authentic comments may get sent to your spam folder. Make sure that you go through your spam folder from time to time to ensure that no real comments are ignored.
Comment Blacklist
The comment blacklist is a great way to stop people from manually submitting spam. Comments that contain blacklist words in its content, name, URL, e-mail or IP will be marked as spam.
Conclusion
As anti-spam becomes more advanced, so too will the spammers. Make sure that you continue to update your plugins and check your settings periodically.
I hope that you found this information helpful. If you have any tips that you'd like to share, please add them in the comments section below. You can always reach out to us at 866-874-3647 or send us an email.
Signing Off,
Gminski Stubbs
Interested in learning WordPress?
Learn WordPress with our hands-on, expert instructor-led training course. Our WordPress classes are task-based and focus on real-world scenarios and challenges individuals face in their day to day dealings with the platform.
Our experts have been designing and creating websites using the WordPress platform since 2005. We would love to have you in our next workshop. Read more