Visit some of our other portfolio categories:     Web Design / Logos / Banners / Print / Buttons / Image Ads / SEO 

At Apex, we pride ourselves in being solutions specialists. Our clients are the foundation of our success. Please take a minute to read some of our awesome reviews. If you have something you'd like to add please feel free to complete the comment box located at the bottom of the page.
To begin working with our team call us at 866-874-3647.

Here's What They're Saying About Us……
Hi, Trena! This is Andrea Richards Scott with ARS Professional Development. My website is www.purposeguide.com. I wanted to give you a quick call to let you know how much I appreciate the work that you did on my website as well as my social media profiles. Before my branding was all over the place and now I have a cohesive look. I really love how everything turned out.
You and your team provided prompt service and the final results were exactly what I was looking for. I've already started recommending you to my colleagues and clients and I sure that they will be just as pleased with your performance as I was. Thanks again and have a wonderful day.
Andrea Richards Scott
ARS Professional Development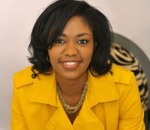 Just wanted to say thank you so much for your virtual support that's been so reliable. I truly appreciate your consistency and dedication to high quality work.
You're the most efficient and most reliable virtual assistant I've had and I just wanted to take just a minute to let you know just how much I appreciate all you've done to support me as a small business owner. You have truly made my business life a whole lot easier! You Rock
Allison Babb Phillips
AIP Business Transformations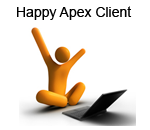 Apex Virtual Solutions provides A-1 services. I use Apex for my business marketing and printing.They always seemed to be one step ahead. Apex Virtual Solutions professional and prompt. I highly recommend this company and have no problem vouching for their quality and reliability.
Rodney Boyd
Barton and Boyd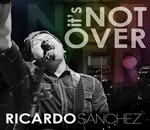 Apex was our first experience with a Virtual Assistant. We were extremely satisfied with the finished product and the customer service we received. We would definitely recommend Apex Virtual Assistance to our business associates.
Ricardo Music
Ricardo Music Website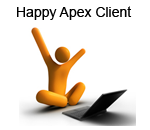 Apex ROCKS!!!!! I can't believe I waited so long to hire a virtual assistant. I will never have onsite employees again. The time that I have saved allows me to go out and bring in new business. Not to mention the dollar savings, I use the extra money on advertising.
Samuel Porter
Porter House Builder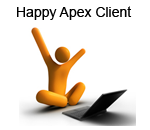 I have always been a do-it-your-selfer and it was hard accepting that I needed help. Apex has been a life saver for me, my business and my family. It's easy to get caught up in running a business.
I started neglecting my family and friends. With the help of Apex, my stress level is down and I actually have time to spend with my family. My Saturdays are now spent at my son's soccer games, no more working weekends for me! Thanks Apex!
Tim Raymond
Raymond Enterprises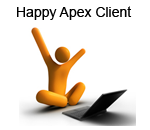 Apex provides me with awesome service. They definitely are life savers. I wasn't sure what I was going to do with my business when my husband had to relocate. I thought it would be difficult with me being located in Australia. They're wonderful and I'd recommend their services 100%.
Gail Nolan
Nolan's Small Finds & Antiques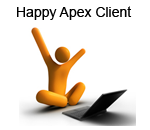 I've been using Apex Virtual Assistance for 6 months now and I don't see how I ever functioned on my own. They are definitely an asset to my company. It's like having my own marketing and bookkeeping department, but without the high expenses. I highly recommend their services and can't imagine where my business would be without their support.
Lawrence Wheeler, Insurance Specialist
Wheeler and Associates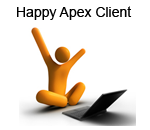 I've had my share of virtual assistants and Apex is #1 in my book. I use Apex for my business printing and they designed my website. They were also able to help me create a customer retention plan for my business. I had no problem bringing in clients but I couldn't seem to make them stay. Now I understand why they say virtual assistants can help increase your bottom of line. I'm a believer.
Hanz Fequiere
Tax Preparers of Georgia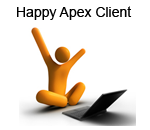 Hi Trena, I was able to access the training videos & watched about 10 of them already last night. They look great and you did a great job creating them. If my brain can keep up with all the knowledge, I will be able to get on with this new project, one of about 1,000, by the end of the year, ha….
Thank you so much & I will be looking at anything more you offer as the quality went well beyond my expectations. Thank you again, have a great Christmas & a most prosperous New Year.
Be Well & Always, God Bless
Phil Fraser