A recent buzz word or buzz term for marketers is "Dark Posts". Dark posts are unpublished Facebook posts that people with Facebook fan pages use so that their posts don't show up in their Timeline.
In the beginning Dark Posts would only show up on the side as a typical ad, but now ads can appear in people's News Feed where the ads are certain to get more attention and interaction.
The cool thing about these posts not showing up on advertisers' Timeline is that it doesn't look like they are just spamming their fans to death. It's a privilege to get someone to like your page. In most cases they are doing so because they either find you entertaining or you're making their life easier in some fashion, so the last thing you want to do is tick them off. Advertisers are able to use Dark Posts as a way to do split testing by narrowing down exactly who sees their photo, message or ad that they are promoting.
For example, let's say you have a product or service that you want to market to potential clients in different regions of the United States. The ad that you promote in the Midwest may differ from the one that you use for New York. You may want to use different terminology or make references to something that the people in their respective regions can relate to.
Being creative and switching up the way you present your ads will help you see which ads and/or formats are getting the best results for your product or service. Facebook Dark Posts give you the freedom to experiment with your advertisements and see which ones are most effective. Just remember to stick to ads that are related to your actual page. Your fans clicked the "Like" button for a reason, don't switch it up on them too much because they are going to feel as if they are being scammed.
How to Make a Dark Post
To make a Dark Post you first have to log into your fan page.
Step One:
At the top right you should see Build Audience
Step Two:

 
Click on Build Audience and you should get a drop down. Select the last option "Use Ads Manager"
Step Three:
Once you are in the Ads Manager, you should see multiple options on the left side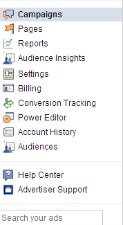 Step Four:
Click on Power Editor and you should come to this screen

Now you are ready to make your first Dark Post. Was this article helpful? Let me know what you think by leaving a comment below.
Do you need help getting start with your social media marketing? Contact us today for a free consultation at 866-874-3647. Are you new to social media marketing and just looking for the basics? Download our free Really Simple Guide to Social Media Marketing.