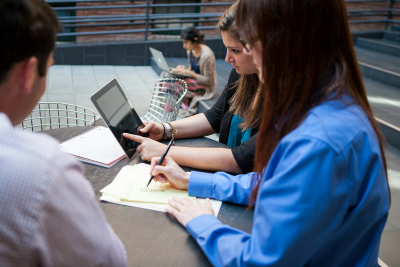 Consumers have forced companies to change the way they spend their marketing dollars.  Because of the internet, people are doing more research before they make purchases.  It's not uncommon for a consumer to be just as knowledgeable as the salesperson when they are about to make a purchase.  Companies have been paying attention to what is going on so they understand the importance of having a strong online presence.  Recently they have been restructuring their websites, beefing up their social media pages and being more transparent on the internet.
Because of this shift, companies are now hiring inbound marketers.  The job of an inbound marketer is to help companies build a stronger online presence and attract more clients.  The first thing that inbound marketers have to do is identify who the ideal clients are for the company.  Once the audience has been identified, actions can be taken to attract them.
Content
Inbound marketers make sure that the content they are creating speaks to the company's buyer persona.  The content may consist of blogs, articles, e-books, etc.  In order to reach the people that it is intended for, it has to solve some type of problem for the reader.   The idea is that once readers view content as helpful, they will be more inclined to return.
Call-to-action
Inbound marketers understand that content alone doesn't bring in more clients.  The content is usually accompanied by highly visible tabs and links encouraging readers to sign up for something or view other company content.  As consumers continue to visit social media pages, blogs, etc., inbound marketers are able to pinpoint who they should focus on.
Clients/Customers
Inbound marketers have to be able to collect data and figure out what is the best course of action for the company.  Through online interactions, they are able to figure out which visitors they should give additional attention to.  More effort is given to these targeted prospects by giving them even more information, offering free tips, inviting them to company sponsored events, etc.  They are presented with ways that the company can make their lives easier and solve problems they may have.  The goal is to turn frequent visitors and fans into clients and customers.
Inbound marketers have an array of responsibilities that help companies grow their sales funnel.  They understand that traditional ads and old school marketing methods are slowly becoming obsolete.  As the internet continues to grow, so does the demand of the consumer. Everyone wants and expects more! More free information, more time, more value.