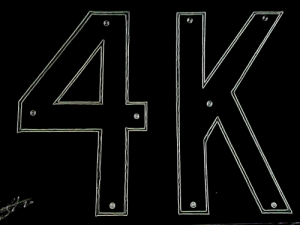 Like most people whenever I watch a YouTube video, I like to watch it in the highest resolution possible.  I hate when I get all excited to watch a video, I click on the little settings wheel and it only goes up to 480p.  I have grown accustomed to HD resolution and I want it all the time.  I'm okay with the 720p HD but I'd much rather watch my YouTube videos in 1080p HD, who wouldn't?  The picture is super clear and it makes the video watching experience that much better.
My wife thinks that I get a little carried away when it comes to wanting to see everything in HD.  For example, we get movies from Redbox about once a week and I immediately start my search with available blu ray disks because I want the highest resolution possible at all times. She thinks I'm crazy and always tells me that it doesn't make that big of a difference to her.  She'll even watch YouTube videos in 480p when they have the option to watch it in HD.   Anyway, I'm sure there are millions of other people out there like me that love to watch television and YouTube videos in HD.
Earlier this week I found out that 1080p HD isn't at the top of the totem pole anymore.  I started watching a video and as I was going through my normal routine, I clicked on the little wheel so that I could change the display from 480p to 1080p HD and there it was, 2 more options for me to choose from.  This guy's video had additional options to watch it in 1440p HD and 2160p 4k.
I had no idea what either one of these resolutions really meant so I decided to do a little research.
What I found out is that 1440p HD is shortened name for 2560 x 1440 resolution.  It's also called Quad HD because it has 4 times the resolution of 720p HD.
As for the 2160 4K it is a step up from the 1440p HD display and is also known as Ultra HD, doesn't that just sound cool?  It has a 3840 x 2160 resolution which is 4 times that of 1080p HD.
I was already happy with 1080p HD but with these improvements I'm not going to know what to do with myself.  As for my wife, I wonder if she is still going to be content watching her YouTube videos in 480p.
Tell me what you think about the new displays by leaving a comment below.