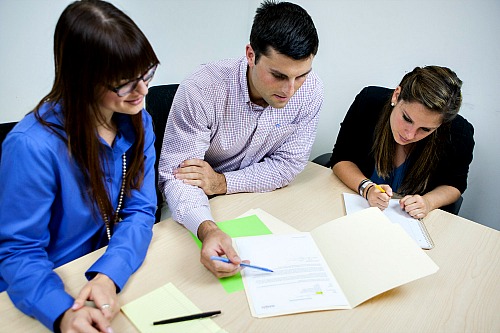 So your business has reached the point where you realize you can't do it alone. You've tried wearing every hat and juggling every ball only to find out that there is not enough caffeine in the world to help you sustain. You've finally decided to step out on faith and hire a Virtual Assistant.
The idea of having a Virtual Assistant or VA makes perfect sense to you and you've read a few articles about how it can free up hours of your day and save you tons of money. The only question now is how do you begin the process of hiring a VA and delegating tasks so that your business can continue to grow?
Getting Started
If you're new to working with a Virtual Assistant it's common to have some anxiety in the beginning. After all, you are trusting someone, that's not going to be working directly under you, to take on tasks that you normally handle yourself.  You're giving them access to a lot of confidential information and to add even more stress you'll probably never see them face to face.
To help ease your worries and get the working relationship off to a smooth start, make sure that you have a clear understanding as to what tasks you're going to have your VA handle. The easiest way to figure out what will be delegated is to jot down a list of tasks that you can easily complete and  you enjoy doing along with tasks that are extremely tedious, dreadful and time consuming.
One mistake that small business owners make is trying to create tasks on the fly. It's important to provide reasonable requests and turnaround times. The fact of the matter is that Virtual Assistants are business owners too and you may not be their only client.
For this reason there should be a contract in place that clearly states what's expected. For example, the number of hours the Virtual Assistant is expected to work, the time of day they'll be working on your tasks, etc. All of these terms should be agreed upon before any work begins.
Communication
A working agreement avoids confusion and ensures that everyone is on the same page. Relationships between small business owners and Virtual Assistants are just like any other relationship, there has to be good communication or it opens the door for future problems.
You and your VA should establish how, when and where business will be discussed before work begins, whether it be via phone, email, Skype or face to face.
The assigning and submission of tasks falls under this umbrella as well. All Virtual Assistants are different so their preferences may vary. Some like to use shared folder services like DropBox or Google Docs for any type of information that both parties will have to share. Others may stick to email and phone communication, while some may use a project management site. There really isn't a right or wrong way to handle the assigning and submission of work, it really just depends on what works best for both parties.
Cohesiveness
Once every agrees on the working terms and a contract is in place, it's time for the work to begin. Keep in mind that even though your VA is a professional, it's going to take time before they understand every intricate detail of your business the way you expect them to. In the early stages of the relationship, you should provide in depth  information and details for each task. As time progresses, your VA will understand what you want, how you want it and essentially become an extension of you, but it doesn't happen overnight.
Care to add anything? Feel free to leave your comments and questions below.
Need Help?
Are you looking for a reliable virtual marketing support team? I would love to chat with you about what Apex Virtual Solutions has to offer. Give me a call at 866-874-3647.